As an avid fantasy football connoisseur, nothing gets me more riled up on twitter debates than the double team argument. The notion is that elite receivers draw double teams allowing the second option to flourish- fair enough. By using this reasoning, some analysts conclude that without the alpha receiver sustaining extra attention the second option will struggle. I always found this rationale illogically and ignorant, my quick counter-response being that the second option would get more targets without the alpha. In this article, I share and explain my research on this belief and explain what this means for Juju Smith-Schuster
---
What Is Double Coverage and Why It Doesn't Matter
Double coverage is the act of using both a corner and safety to attempt to limit the production of the alpha (star receiver). Only the top receivers in the league see this coverage as it could be detrimental to the opposing defense. But, a great misconception is that all alpha receivers receive this coveted attention. Teams don't double cover short routes like slants. Instead, double coverage focuses more on long-developing and intermediate concepts where the safety can help. Combatant defenses repeatedly double team players like Julio Jones, Tyreek Hill, and Deandre Hopkins because of their longer routes. While an alpha such as Micheal Thomas isn't typically double-teamed because of his lower average depth of target.
More importantly, the receivers who get a double-teamed are also skilled enough to beat it. It might sound counter-intuitive, but if a receiver is good enough to warrant getting double-teamed, then they're assuredly good enough not to be affected.
Let's take a look at arguably the best receiver in the NFL, Julio Jones. Even after his incredible 2014 campaign, he was still able to outproduce. Julio Jones went on to break his career highs in receptions and yards the following year; this example illustrates the point perfectly.
Use this paradigm: if a receiver is so extraordinary to get double covered and game planed around, wouldn't he still laboriously be involved in the offense? We know that every time someone versus the Falcons they game plan around Julio Jones, yet nevertheless, it does not impede his role. Analyst alike shouldn't view double coverage as a severe hindrance but an acknowledgment of a talented player.
---
Takeaways
Teams usually double cover deeper routes to allow the safety to get involved
Double-teamed receivers are good enough to beat them because of the strain it puts on the opposition
---
Why Receivers Perform Better Without the Alpha
Using this logic, Amari Cooper should benefit from playing with Gallup. Truthers of this ideology would agree that Gallup would keep the defense humble and prevent them from solely focusing on Amari Cooper. But what happens is the exact opposite, when Gallup went down, the former-Raider saw a 17% increase in target share and a 23% boost in fantasy production; if the extra attention severely damaged Cooper's game wouldn't his production wane once Gallup got hurt. Or what about Julio Jones, who saw a ridiculous 88% increase in target share, got nine more targets, and a whopping 92% increase in PPR fantasy points after Ridley got injured. Additional examples include Zach Pascal (68% boost to fantasy production once Hilton went down) and Breshad Perriman (350% boost once Evans and Godwin were out). Hypothetically the losses of the two studs should have hindered Perriman's play, as they both were the foremost objectives of the opposing defenses. However, the now-jet only preformed well without those two.
Double coverage, triple coverage, or facing the elite corners; it all doesn't matter. Targets are the be-all-end-all for wide receiver fantasy production. Of course, talent is preeminent, but the truth of the matter is that if a pass-catcher gets targeted, they will be highly proficient. If drawing double teams allowed for the second option to succeed, we would have already seen Allen Lazard and Kenny Stills emerge as stars.
---
Elite Cornerbacks
So if getting double-teamed isn't an obstacle, then what about facing the team's top corner? Stephon Gilmore won defensive player of the year and is most definitely the best cornerback in the league. So to evaluate the drop off from him and McCourty (CB 2), I took the average DVOA from the receivers he's faced and mapped them with their fantasy points. DVOA is a metric that measures how much better a receiver is in regards to the average wide-out. While it's not the most precise, it's the best available metric to use in this circumstance.
On average, Stephon Gilmore covered a receiver with a DVOA of -0.07% (think Golden Tate or an average league receiver). On the contrary, McCourty covered a receiver with a DVOA of -15% (Curtis Samuel or a receiver that is 15% worse than the average receiver). Gilmore allowed 7.25 fantasy points meaning receivers performed 30% worse against him while McCourty allowed an average of 7.4 denoting that receivers produced 50% more against him. The predicament shows that lining up against the top corner compared to the subsidiary corner matters and could effect fantasy production.
---
Cornerbacks and the Slot Receivers
There are two primitive types of cornerbacks in football: zone and man. Zone corners play areas and generally are less athletic than man corners; they require high football IQ and need to be able to recognize plays. On the other hand, Man corners typically have the assignment of covering one man and need to be highly athletic. Of course, both defenders have to be able to do either job, but slot corners have to be elite at zone and man. Being a slot corner is rough, you have to be able to cover speedy, elite receivers without the defensive benefits of the cornerbacks on the outside. Frequently, you will have to recognize route concepts and have to keep up with the fastest receiver. Outside man corners can use the sidelines to their advantage, while slot corners have no edge.
Using Stephon Gilmore as an example, he was a slot corner 15% of all snaps. But unforseen, receivers averaged 21% slot routes against him; this confirms our hypothesis. Even the best corner in the league doesn't always matchup against the elite receiver in the slot.
---
Why Is This Important
Slot receivers have an advantage compared to outside receivers 
It's more challenging to guard a slot receiver than an outside receiver
The team's number one corner doesn't always guard the slot
---
What This Means For Juju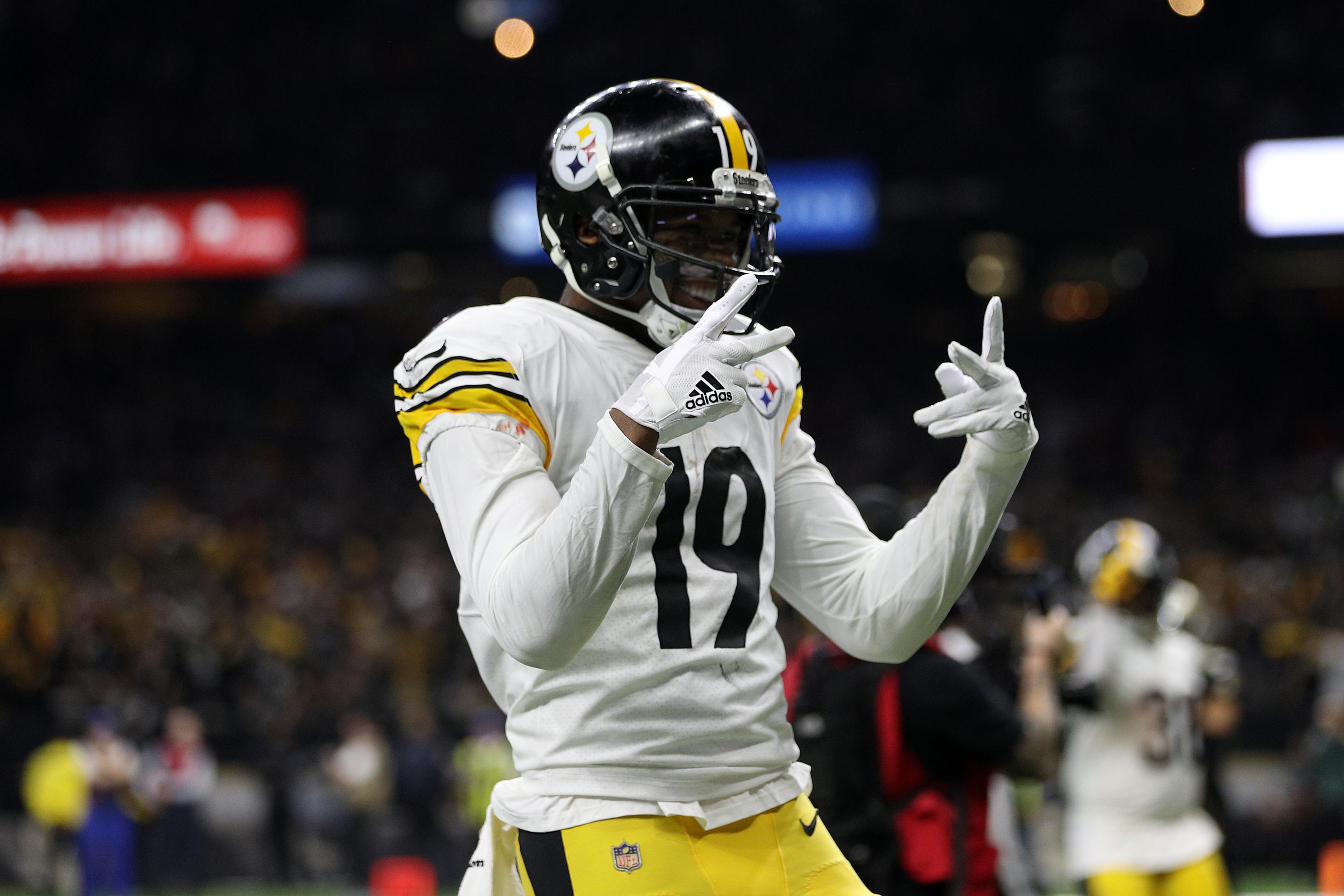 One year ago, fans labeled him a superstar that would take a lofty step in the subsequent year. Now questions are emerging if he's even the number one option on his team. Categorized as a fantasy bust is putting it lightly, Juju failed to deliver on all accounts. Some analysts chalk this up to the loss of Antonio Brown, abysmal QB play of Devlin Hodges and Mason Rudolph, and playing less in the slot. From the previous anecdotes, we know the loss Antonio Brown couldn't have hurt Juju and should have elevated his play; the loss of the once-great number 84 should have opened up more targets. And although the QB play was dreadful, Diontae Johnson and James Washington outperformed him. Per player profiler, Schuster played more time in the slot this year, so his usage wasn't an issue. Forgotten is the fact that the Steelers passed the ball at a league-high 43 attempts per game in Juju's breakout year compared to the 32 times they threw the rock last season. It is not that Smith-Schuster failed in the past year, although he did somewhat, it's just that the Steelers 2018 season was bound to regress. Juju is talented but isn't a proper alpha who can triumph with anyone under center; it's clear now that his elite production was a fortunate byproduct of the Steelers offensive philosophy. Yet the past fan-favorite is still criminally undervalued.
Something we can easily project to progress is Juju Smith-Schuster's target share numbers. In his sophomore season, Juju had a 24.5% target share while sharing the field with Antonio Brown. Yet, last season the former breakout only had an 18.3% target share. Although the Steelers won't be as pass-heavy as they were in 2018, analysts still project them to throw 587 times. By using a conservative 25% target share, you could estimate Smith-Schuster to have 145 targets. The only issue is Roethlisberger and how his health could affect his play.
Big Ben has been rehabbing from his Tommy John surgery since injuring himself week 1. The Tommy John surgery, name after a famous baseball player, is a procedure where the surgeon uses a tendon from a different body part to reconstruct the elbow. Although it sounds brutal, most players recover with general ease. Of course Big Ben being 38 years-old garners some concern, but his health shouldn't matter. Juju doesn't thrive on long pass attempts but shorter and intermediate routes. His career ADOT (average depth of target) is only 9.2. So if Roethlisberger can't throw as far as he could before, Schuster should remain unaffected.
Knowing that Schuster plays primarily in the slot also means that he won't be seeing coverage from the team's top corner. Instead, the weaker slot corner or nickel corner will match up against him. Weirdly, he gains all of the advantages of losing the presence of AB (more targets hence more productions) but does not face any of the unfortunate downsides since he's a slot receiver.
Remember that last year he was being drafted as the WR5- nothing changes this upcoming season. Big Ben's fitness won't be a concern. All we learned is that Smith-Schuster is just a slot receiver, and that's okay! For example, Cooper Kupp was tearing up the league when he was playing in the slot averaging 17.3 half-ppr points per contest. Unless you're willing to admit that the whole industry was wrong about him, then there is no reason for people not to have him as a WR1.
Projections: 155 Targets 98 Receptions 1274 yds 7tds
---